Florence – The City of Renaissance
Florence, the capital of Tuscany region, was founded by Romans in 59 BC by Julius Caesar in the wet valley of the Arno River, during the spring of the "Floralia" (or Ludi Florales: celebrations to honor Flora, the Roman Goddess of Spring and the harvest). The Romans chose this period, because it gave birth to the astrological and astronomical year, and therefore particularly propitious period. The constellations, the spring and the flower continually recur in Florentine events.
The structure of the city was defined to the traditional precepts of the "Castrum" or military camp; a rectangle protected by brick walls and circular towers with four main city gates, located in Piazza della Repubblica. Currently only a few remains are visible.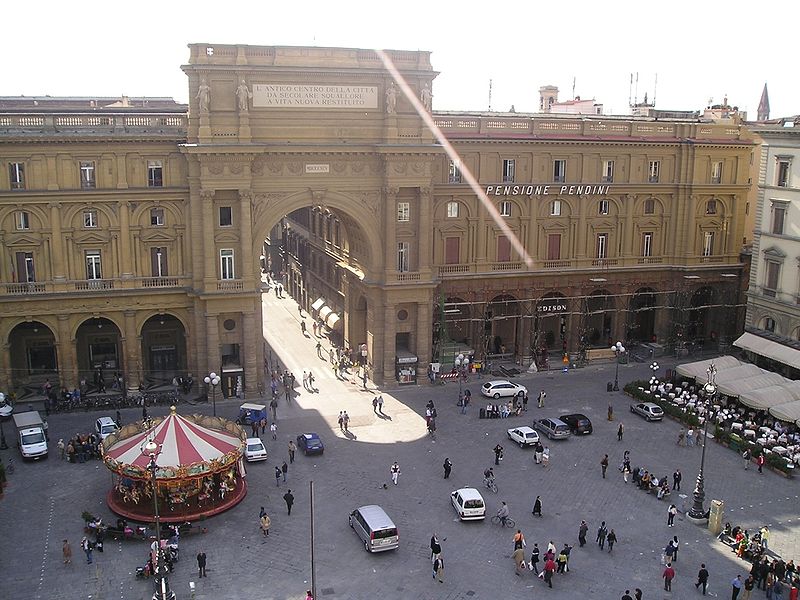 Piazza della Repubblica, ancient square of the Campidoglio center of Florentia
The economic prosperity of Florentia also increased rapidly thanks to the new route of the Via Cassia, which connected the city to Rome.
Florence became a free municipality in 1138 and was enriched thanks to the trade of its artifacts, beginning to impose itself on the nearby cities of Pisa, Pistoia, Siena and Arezzo.
Later the " Priorato delle Arti" was formed. They were professional guilds, organized by the "Popolo Grasso" ( the mercantile and manufacturing middle class), powerful enough to oppose the old urban aristocracy. The Major Guilds were involved in the constructons and maintenance of monuments.
Moreover, the numerous conflicts between the most prominent families divided into factions: Guelphs and Ghibellines, and the continuing disagreements between the aristocrats and the people, caused an instability that led the Medici family, rich merchants and bankers, to impose themselves on the government of the city.