City of Palio
Siena, enchanting city on the hillsides of Tuscany, famous for the Palio, (the horse race, which takes place in Piazza del Campo), for its architecture and significant frescoes such as Good and Bad Government painted by Ambrogio Lorenzetti, the Majesty by Simone Martini and the Majesty by Duccio di Buoninsegna. These are examples of great civilization and political-social organization, which few cities in the world can boast from the 12th century onwards.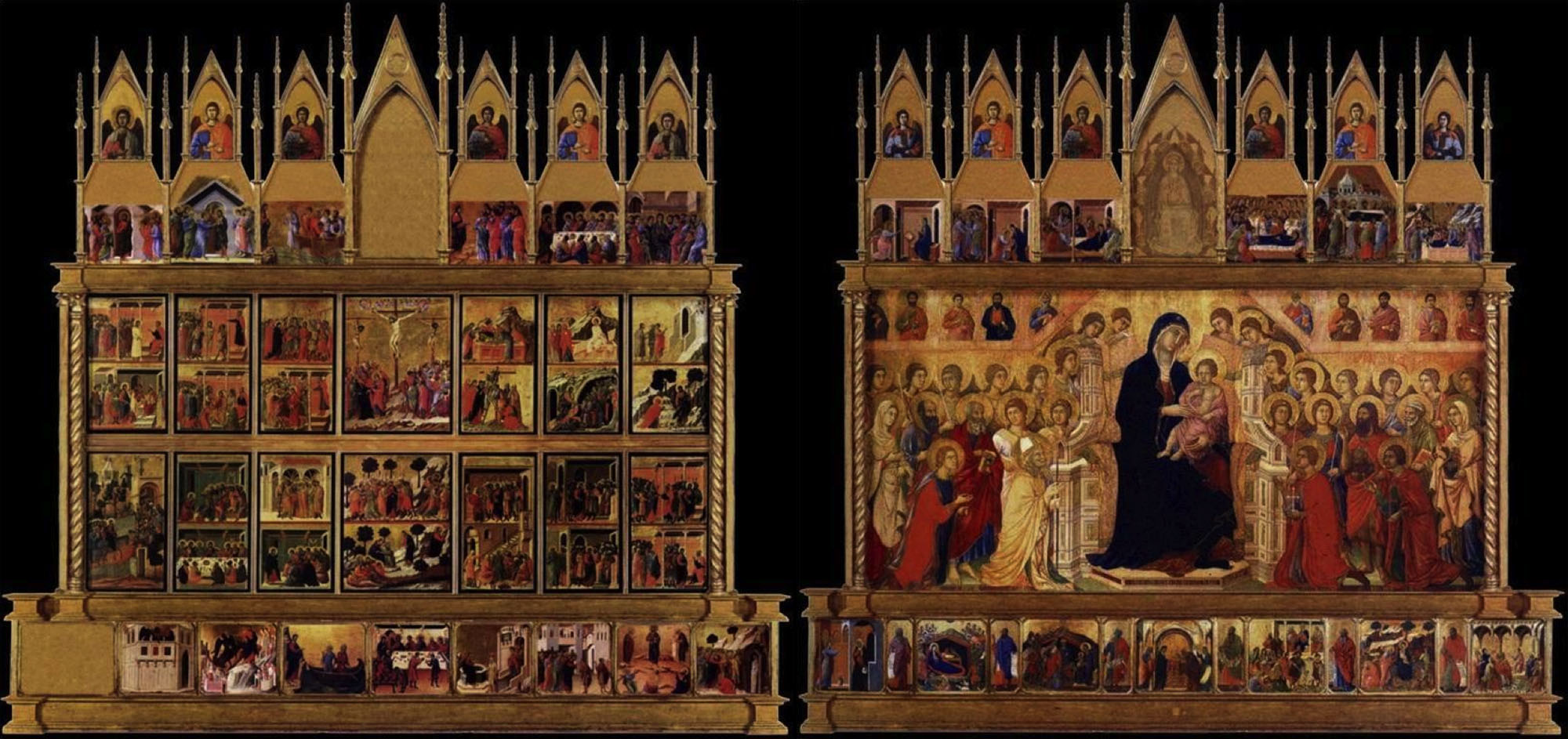 Maestà, Duccio di Buoninsegna, Cathedral of Siena
The city is divided in three parts, which give to Siena the characteristic appearance in the shape of a three-pointed star: "Terzo di Camollia", "Terzo di Città" and "Terzo di San Martino". Each third includes the "Contrade"or districts present in that territory.
In the early 12th century the conflict against Florence started, the rival city, due to the political and economic control of the surrounding territory. Siena won the famous battle of Montaperti against Florence in 1260, some memorabilia of the battle is preserved inside the Cathedral, like the masts of the "Carroccio" or war cart used in the struggle of Montaperti.
Throughout the 11th and 12th centuries, the city went through a demographic, economic and political development, thanks to the Via Francigena and to the money-exchanging activities, but the great demographic and building development was under the power of the Council of Nine (1287-1355), a Guelph government, formed by the rich merchant bourgeoisie.
From the 16th century Siena became an easy prey in the territorial designs of the great European powers and in 1559 Siena went under the power of the Medici Family, maintaining its autonomy.
One of the recommended itineraries for those who visit the city for the first time, starts from "Porta Camollia", along the Via Francigena, focusing on some churches along this route, we reach Piazza Salimbeni, the headquarters of Monte dei Paschi di Siena, one of the oldest banks in the world, founded in 1472. You can admire Palazzo Salimbeni, an example of architecture of the second half of the 19th century, imitating the Gothic style.